On a cold day there is nothing better then curling up next to the fireplace with a hot drink in hand. One of our favourite hot and cozy drinks to make is a HOT smoothie…yes that's right hot smoothies actually exist and they are super easy to make! For this smoothie we have added some of our favourite superfoods to fill our bellies with good nutrients and keep our immune systems thriving.
***Remember, you can have fun with this recipe. Make it more sweet and dessert like, or minimize it to a plain delicious hot smoothie without the extra bells and whistles.
Superfood Hot Chocolate Smoothie Recipe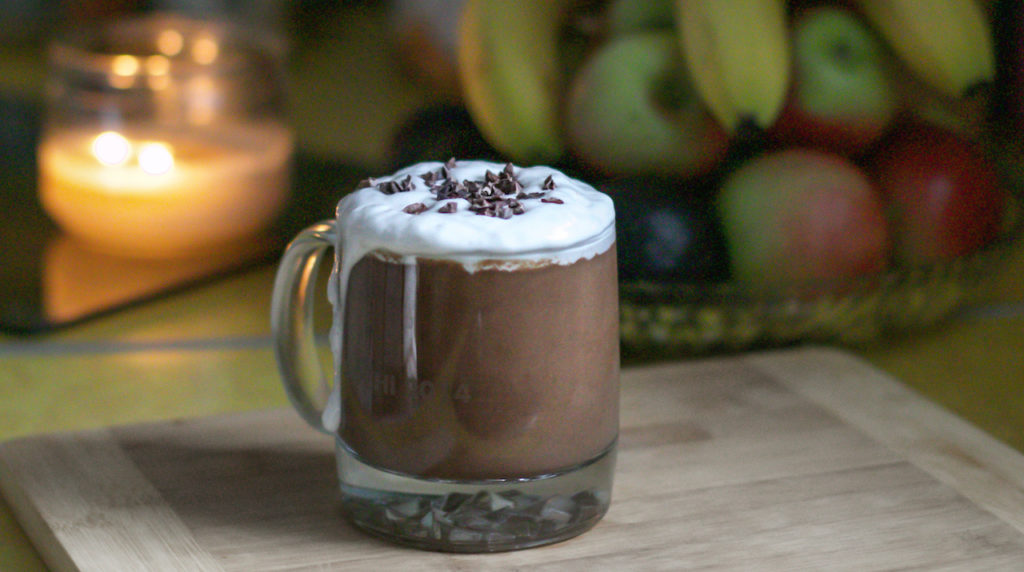 Ingredients:
1                banana
1 cup        plant-based milk (soy, almond, coconut, cashew) * For a creamier texture we recommend coconut milk
1 tsp         maca powder
1 tbsp      almond butter
1-2 tbsp  raw cacao powder (depending on how sweet you like it)
1/2 tsp    sea salt
1 tbsp (packet) Four Sigmatic hot cacao mix or Reishi mushroom powder
Optional:
1-2 squares of organic dark chocolate
1 tsp cayenne pepper (for a spicy kick!)
1 tsp cacao nibs
coconut whipped cream
Directions:
1. Boil plant based milk (adding dark chocolate at the end if making more of a dessert smoothie)
2. Blend all ingredients together with boiled plant milk. (Adding less cacao powder is recommended if you're blending the ingredients with chocolate milk or the hot chocolate reishi powder mix)
3. Pour the hot smoothie mixture into a cup.
4. Garnish with coconut whipped cream and cacao nibs if you desire!
Feel free to play around with the ingredients, adding less or more to your desired taste!
Enjoy!!