This class has been taken from our 31 Days of Yoga Journey program, available FREE on our Boho Beautiful Official app.
No Cost. No Catch. Just Completely FREE At-Home Yoga Classes for 31 Days.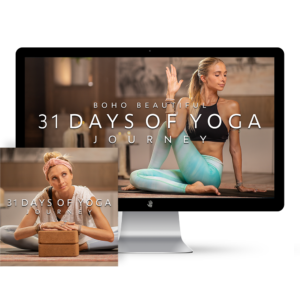 Are you seeking mental clarity and consistent emotional balance?
Do you need to relieve ailments and give your body permission to thrive?
Get the structure & support you need to integrate yoga and all its benefits into your daily life, both on & off the mat.
22 Yoga Classes with Juliana Spicoluk
9 Yoga Classes with Mark Spicoluk
Customizable daily schedule to fit your life
From 15 mins to 1 hour per day – YOU choose!
Perfect for a complete beginner or anyone looking to take their practice to a new level.
Get your classes NOW!