If you enjoyed this class and are interested in diving deeper on your journey through yoga and mindfulness, check out:
Boho Beautiful RETREAT – A Seven Day At-Home Yoga Retreat.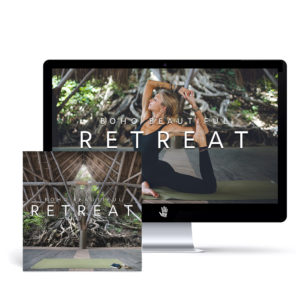 At-home journey through yoga to reconnect to All That You Are.
Boho Beautiful Retreat allows you to enjoy the bliss and transformational power of a traditional Yoga Retreat in the comfort of your own home.
7 Daily morning yoga classes
7 Daily evening gentle yoga & meditation classes
7 Daily evening reconnect sessions
Daily personal journaling exercises and more!
Through a carefully crafted 7 day schedule (completed at your own pace) you will explore many different styles, practices, and intentions of yoga in just under two hours per day.
Dive deeper into your soul to heal, re-discover, and re-connect.
Start your journey TODAY!