If you enjoyed this detoxifying yoga class, check out Boho Beautiful DETOXIFY. 
This exclusive 7 day schedule is the perfect combination of clean eating meal videos & recipes combines with a daily detox yoga class.
It has been designed to help you find your new potential of health vitality and daily energy in an easy, sustainable and enjoyable way.
Enjoy 25 videos, two healthy plant-based recipe & smoothie ebooks as well as tons of tips and advice to maximise your journey to vitality and health.
This Total Body Power Yoga Workout class by Juliana Spicoluk is perfect for anyone looking for a toning and strengthening fitness class. As it is only 25 minutes  and requires no equipment it is the perfect yoga workout if you are short on time. This power yoga workout is an online yoga practice that boosts metabolism, works up a sweat, and elevates your heart rate.
Power Yoga Workout: What To Expect
In this class, be prepared to tone, build strength and feel energized. Be ready to work all major muscle groups in the body, especially your core—the powerhouse of your entire body. This class has some challenging poses in it, but you can always practice modifications. This is an all levels yoga class. We will wind down our practice with some deep breathing to recharge for the day.
This power yoga workout proves that a workout for results doesn't have to be in the gym. Mat based workouts are effective and enough—especially when they are combined with powerful, strength-building and balancing yoga poses. Together we will stretch to increase flexibility, and we will flow to better connect with our inner being and the breath.
Find Your New Potential
We will push ourselves to new limits every time we do this class. Each time you do this yoga class you will feel yourself grow stronger, and you will see more results in both your yoga practice and your overall health. Remember that yoga is a practice and you will see more results if you dedicate yourself to a daily practice.
If you are looking to feel incredible results then this power yoga workout class is for you. Your body will feel great, and your mind will feel clear. It's a perfect workout for both your body and your mind! Try this class in the morning to feel a burst of energy and a boost of confidence throughout your day.
So grab the mat and your water and let's do this!
Our custom app iOs & Android App + online streaming platform!
Try it today for FREE for 7 days!
Exclusive classes, our entire video library, monthly calendars & challenges, and more!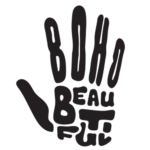 Boho Beautiful is Juliana Spicoluk and Mark Spicoluk. It is a yoga lifestyle brand that is creating positive content for your body, mind, and the earth. Boho Beautiful offers all styles of free high- quality videos about Yoga, Fitness, Pilates and Guided Meditations. Moreover they also share their love for Vegan Food and Conscious Living.
Since the launch of the Boho Beautiful Youtube channel in 2016, the brand has grown to release more than 300 free yoga videos and five exclusive programs. On top of that a custom subscription app/streaming platform and their own self-published Happy Healthy Plant-Based Eating Guide.
As a growing community for health and mindfulness, the ongoing mission is to create and share as much high frequency positive content as possible. And to continue to reach and connect to as many people as this beautiful opportunity will allow.
The mission and vision Juliana Spicoluk and Mark Spicoluk from Boho Beautiful live by every day is:
Your Decisions Today Will Define Your Tomorrow.