A Free 7-Day Fitness Challenge to Slim Down, Tone Up & Bliss Out
If the sign-up form does not appear, please disable any ad or pop-up blockers. If you require assistance, please reach out to [email protected].
Jump Start or Shake Up Your Fitness Routine
Get the structure & support you need to finally add exercise into your schedule.
Get off your fitness plateau & beat the boredom of the same old workouts.
Get amazing results & experience bliss in just 15 minutes a day.
No Cost. No Catch. Just Completely FREE At-Home Fitness Classes.
"This series is extremely effective! I love being able to knock out my exercise for the day in 15-20 minutes and yet feel like my body has worked harder than if I had just been "fluffing" around for an hour. So much more practical in today's busy life! Thank you so much for giving us this series. I think I am going to do it over and over, week after week.

Abi C.

Verified Boho Beautiful Official Community Member
About the Blissful Body Bootcamp
No matter your fitness level or goals, this Bootcamp is a quick yet effective way to tone & tighten your entire body, shed those extra pounds, increase muscle definition, and build stamina — without ever leaving your home!
7 Intense (but fun!) mat-based workouts
A 5-minute daily warm-up practice
4 Gentle substitution classes
7 Daily reminder emails with links to your videos
1 Week schedule you can fit into your to-do list
Check Out What the Community Has to Say…
Sign Up & Feel Amazing From Day One
A Deeper Look at Your Bootcamp
7 Free Fitness Workouts. One Each Day for a Week.
With a combination of toning, cardio, yoga, HIIT, and Pilates exercises, this program will work every muscle in your body, raise your heart heart, boost your metabolism into the fat-burning zone, & get those endorphins flowing so you feel that post-workout euphoria.
Day One
Full Body Power Activation
Activate the entire body in order to re-awaken every muscle. Work through a series of toning and sculpting exercises, re-energizing your mind & body to feel amazing!
Fire up & strengthen your entire core.  Love every minute of this fun yet intense ab workout, even if it hurts, because you feel the burn and know it's working to create a long, lean midsection you are proud of!
Day Three
Upper Body Sculpted Power
Tone, strengthen, and sculpt your chest, triceps, shoulders, and back. Build a strong upper body with a modifiable workout heavy on the planks, pumps, and push ups that will make you feel powerful!
Day Four
Toned, Strong & Powerful Lower Body
Lift and tighten your glutes, hamstrings, and quads as you build strength and micro-definition. Take on this challenging workout and leave feeling anchored & rejuvenated with a solid lower body foundation.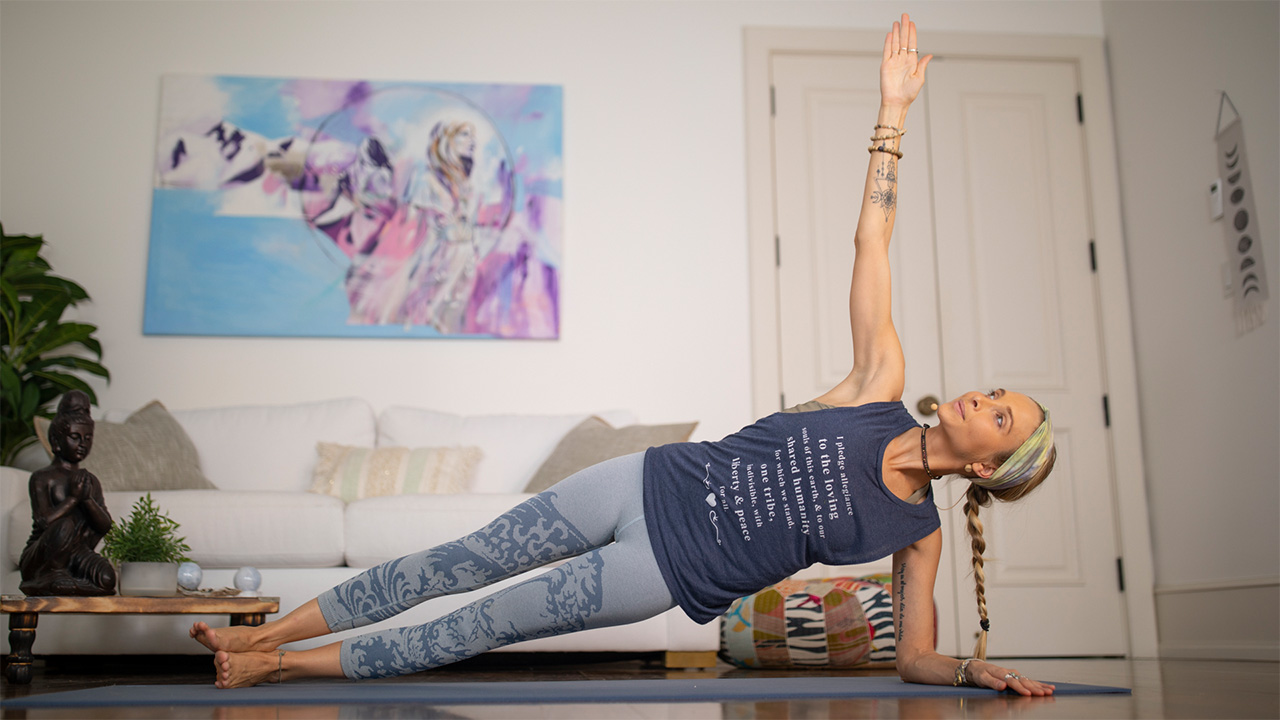 A set of fiery exercises to target and engage every muscle in your abs & core. Feel connected, balanced, and unshakeable from the inside of your core and center of your body.
Day Six
Upper Body Power Salute
Start with a sun salutation variation to awaken the body. Then push through fine toning movements to create beautiful definition in your shoulders, triceps, and chest.
Day Seven
Lower Body Extreme Tone Up
Go all in on your lower body, targeting your glutes, quads, and legs. Feel how far you've come in just one week as you finish this class feeling exhausted yet blissed out and beautiful!
4 Free Substitution Classes
For Days You Need to Rest & Recover
Choose from these four low-impact yoga practices on days you need to take it easy. Replace your bootcamp workout with a gentler flow of recovery-focused asanas or some deeper stretching in yin yoga that will release your connective tissue & provide relief.
Return Of The Hipster Yoga for Tight & Sore Hips
Heartfelt Mindful Movement Yoga Flow
Peaceful Grounded Flow & Deep Body Release
Gentle Reconnection Yoga Class
A 5-Minute Full-Body Warmup
Start Here Daily
A short, sweet, and simple practice to get your body & mind ready for the intense challenge of the bootcamp workout. Stimulate circulation, increase your range of motion, and prime your muscles for the challenge ahead.
"Thank you so much for this, Juliana! These bootcamps are just what I needed (and didn't know it)! Your videos have added so much health and happiness to my life for years now, and I am so grateful. I really love this series. Thank you!

Catherine S.

Verified Boho Beautiful Official Community Member
Fitness is a Feeling. Not a Number on a Scale.
Find Your Bliss in 15 Minutes.
If you want to feel fit but you don't have a lot of time to get in a good workout, the Blissful Body Bootcamp will truly amaze you with it's quick, intense, & effective workouts. Even after the seven days are up, you'll feel motivated to keep going because you'll see the results & crave that blissful body feeling.
Take the First Step & Sign Up Now!
More Incredible Results From Happier Healthier Community Members
Join Millions Who Trust Boho Beautiful
2.82m Subscribers
200k+ Views Every Day
400k+ Followers
14k 5-Star Reviews
75k+ Premium Programs Sold
250k+ Free Program Participants